Discovery Kits​
Discovery on the Road to the Future
Enhancing and strengthening library services to children in the classroom, home school or during home exploration, Meekins Library Discovery Curriculum Kits are full of a variety of materials designed to appeal to teachers and kids alike. Each kit is packed in its own wheeled suitcase ready to take back to class or home. Materials are appropriate for use by a range of learners.
More information about each kit can be found by clicking on the name of the kit for a full description as well as availability or by calling the Meekins Library at 413-268-7472.
These kits were made possible by a Library Services and Technology Act Grant from the Institute of Museum and Library Sciences administered by the Massachusetts Board of Library Commissioners.

Africa is not a Country, a small class or home study kit for grades 1-4 provides books, videos and realia about the continent of Africa and how children and families live in a variety of settings.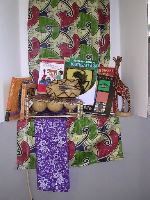 Arts and Music of Africa and Asia, a large teacher/classroom only kit, contains musical instruments as well as videos, prints and books about arts and music of Asia and Africa for teachers in grades 3-12.
Bird is the Word, a kit for children in grades k-3, provides an opportunity for children to learn about birds with an emphasis on backyard birds of the northeastern United States and bird watching.

Colonial America is a large kit including books on each colony, games, and videos for classroom use and home study of the colonial period from 1600-1775 grades 3-6.
Community Awareness explores the basic elements of community for teachers and students grades k-3.
Endangered Species explores the fragile interaction of life on earth for grades k-3.
Families Around the World provides world atlases as well as a variety of books, videos, puzzles about families her in the United States and around the world for students k-4.
Folktales and Storytelling a kit for all ages provides a variety of resources including a small plush fairy and gnome house complete with inhabitants, CD's, videos and tapes as well as stories to learn about the fine art of storytelling and folktales for all grades.
I can learn to speak Spanish a class or home study kit provides Spanish language and bi-lingual books as well as other materials to augment the study of culture and language for grades 1-4.
Japan provides resources for teachers and students grades 2-5 to explore the arts, literature and culture of Japan.
Math Fun provides books on a number of math topics for a range of ability levels. It is a smaller home-study kit with material for preschool - young adult.
Mother Goose supports early literacy in schools and homes by providing an opportunity for young children Pre-k-2 to learn nursery rhymes and the alphabet and to experience the fun and joy of chanting and singing.
Mystery! a truly multi-media kit augments the language arts, science and math curriculums in grades 4-6 using the theme of mystery to delve into the genre of mystery writing and to solve math and science mysteries and puzzles.
Native Americans provides resources for teachers and students grades 2-5. The kit's concentration is on history books about New England's Eastern Woodlands Indian tribes including the Wampanoag, Iroquois and Narragansett.
Oceans provides an opportunity for children k-3 to learn about oceans, marine life and seashores.
Prehistoric Life provides an introduction to prehistoric life and the reign of the dinosaurs.
Revolutionary War and the Birth of the U.S.A. provides resources for grades 3-6 to study the Revolutionary War period from 1775-1783.
Rivers & Salmon provides resources about the life cycle of salmon, the water cycle and rivers for grades k-3.
Seasons provides resources for students and teachers k-3 to explore the changing seasons in the northern United States with a focus on Fall and apples and pumpkins.
U.S.A. Heroes and Heroines focuses on the study of American social reformers, civil and human rights leaders, their biographies and the study of biography as a genre for grades 4-6.
Viva Mexico! is a large teacher/classroom-only kit provides a wide variety of historical information, real crafts, as well as Spanish language materials for grades 4-6.
---