Local History Resources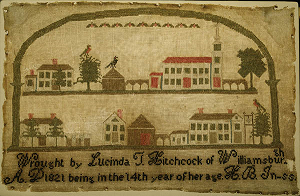 Early views of the center of Williamsburg.

The Meekins Library holds a small collection of books, manuscripts, photographs, maps, illustrations and objects relating to the town of Williamsburg, Mass., all its villages, and local Pioneer Valley communities. Materials chronicle the lives of the people and the community, document major events in the history of the town, and chronicle its evolution since its founding in 1771.
All collections are available for use in the Meekins Library.

Some materials are available virtually, through the Williamsburg Libraries website.

Some great sources for Williamsburg Local History are:

MassMoments provides insights into Massachusetts' history on a daily basis.
The Hampshire Room for Local History and Special Collections at the Forbes Library in Northampton offers information in person and online.

Preservation of Historic Materials
FREE Preservation resources:
---